Private Transfer from Faro Airport to Lagos
Transfer from Faro Airport to Lagos
With Sunline Transfers it couldn't be easier, safer and more comfortable to travel between Faro Airport and Lagos.
Your driver will be waiting at Faro Airport with a sign with your name, ready to take you to Lagos. No waiting time, no strangers on board, just you and your fellow passengers.
---
Distance and journey time between Faro Airport and Lagos
Faro Airport is located at approximately 92km from Lagos, your journey will take around 01 hours 10 minutes to get to your destination.
How to get from Faro Airport to Lagos
What is included in the price?
Private Transfer ( no strangers on board )
Baby and Child Seats
Golf Bags allowance
Free Wi-Fi ( When available )
Modern and Comfortable Vehicle
Full insurance coverage
English Spoken Driver
No extra stops
---
Price for transfers between Faro Airport and Lagos
| From | To | Passengers range | Total Price Per journey |
| --- | --- | --- | --- |
| Faro Airport | Lagos | From 1 to 4 people | From 81€ ( £72.66 ) |
| Faro Airport | Lagos | From 5 to 8 people | From 98€ ( £87.91 ) |
| Faro Airport | Lagos | From 9 to 12 people | From 179€ ( £160.56 ) |
| Faro Airport | Lagos | From 13 to 16 people | From 196€ ( £175.81 ) |
| Faro Airport | Lagos | From 17 to 20 people | From 277€ ( £248.47 ) |
| Faro Airport | Lagos | From 21 to 24 people | From 294€ ( £263.72 ) |
The prices are for all passengers, not for each.
Payments
In most of our services, you can pay directly to the driver in cash or credit card. You can also pay your transfer online in advance.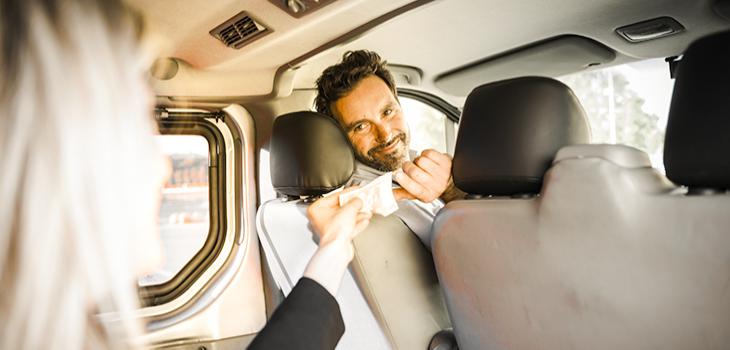 ---
Contact Us
If you have any additional question, please get in touch with us.
Reviews
5 Superb Based on 4927 reviews
---
Mr Ash Mcmorris
Thank you Carlos - happy Easter to you too. Your service ran like clockwork. Thank you! I have left a trip advisor review All the best Ash
Patrick Murtagh
Good morning Carlos, Thank you once again for a super service on both our recent transfers. Both drivers courtious, punctual and helpful. 100% as usual. We'll be back in November and will contact you in advance. Take care. Regards, Patrick
Mr Sam Compton
Hi Carlos Thank you again for a great service as ever, back home now, all transfers were perfect. Will always use your services – thank you. Kind regards Simon
Mr/s Frances France
Hi Carlos, we just wanted to say how pleased we were with your service , we had great communication with you,  and your drivers are always on time, help full and friendly. We have recommended you to other people in the hotel as sunline is one of the best and most reliable service to use . Best wishes.     Mr & Mrs.  France .
Mme Pinguin Georger Marie Sonia
Hello Our stay went very well and we had great pleasure in discovering your country. We would like to thank you for your professionalism and we will keep you in our contact for our future transfers. Best regards
Mr Prasanta Paul
Dear Carlos, It is my heartfelt pleasure to say that I received an excellent service from your Sunline Transfer. Both the drivers were very courteous and respectful with us. I will strongly recommend Sunline transfers to anybody and everybody. And, on my next visit I will use only your transfer service. I wish you your loved ones a very Merry Christmas and a peaceful, prosperous New year.
Good Morning Carlos. I'd just like to thank you for all your help. Very professional indeed. Also, thanks to your two drivers, Alex and Francesco, who were most pleasant. Will recommend your service to our friends. Regards Larry & Eileen. See you next year. Please God.
Mrs Rosemary Hernon
Just wanted to say i just returned from Portugal and must say the service was excellent and very friendly and polite drivers. I most certainly will use you again. Very prompt and on time.